Guestblog #2 by Saar: make an upcycled chessboard!
Upcycle jezelf een schaakbord
Make an upcycled chessboard
Ik kreeg enkele maanden terug een erfstuk. Een oude doos met schaak- en damstukken. Superleuk. Alleen was er geen schaakbord bij. Bummer. Aangezien je niet zomaar overal een bord kan kopen zonder stukken en de stukken zonder bord een beetje zielig zijn, besloot ik er zelf eentje te maken. Ik dacht aan een soortement quilt met restjes stof. Alleen had ik net niet genoeg overschotjes of waren het niet de juiste kleurtjes of was ik te lui of … Het kwam er dus niet van. Ondertussen staan die prachtige stukken stof te vergaren en willen wij spelen!!!!
I got a family heirloom some months ago: an old box full of chess en checkers pieces. Super fun. Only, it didn't include a board. Bummer! Since you can't really find boards without pieces lying around on the street and pieces without a board are pretty sad, I decided to make my own damn board from leftover pieces of fabric. Only I never found enough leftover fabric, or it weren't the right colours, or I got bored, or… It just didn't happen. Meanwhile those gorgeous pieces are gathering dust and we want to play!
En toen pikte er vorige week iemand mijn fiets. We vonden hem gelukkig iets verderop terug, maar de hooligans hadden mijn mooie toile cirée fietstas wel kapotgescheurd. Niet dat dat zo'n ramp was, want hij was al een tijdje op z'n laatste adem aan 't lopen, maar toch: boe!!!!!!! Ik vond het wel zonde om zo'n hoop toile cirée weg te gooien. En toen dacht ik weer aan mijn schaakbordprojectje! Wat een geluk bij een ongeluk! Dus ben ik aan de slag gegaan en tadaaaa: een keimooi, oprolbaar, afwasbaar, beach- en mountainproof schaakbord. Omdat ik jou ook zo'n megacool upgecycled item gun, ziehier mijn tutorial.
And then someone stole my bike last week. Luckily, we found it a little further down the road, but the hooligans did trash my bike bags. Not such a disaster, they were already starting to disintegrate, but still… Boo! I thought it was a shame to throw away so much waxed cotton. And then I remembered my little chess project. What a silver lining! So I did my thing and tadaaaa: a nice, rollable, washable, beach and mountainproof chess board! Since I want you to be able to make such a gorgeous piece of loveliness, I made a tutorial.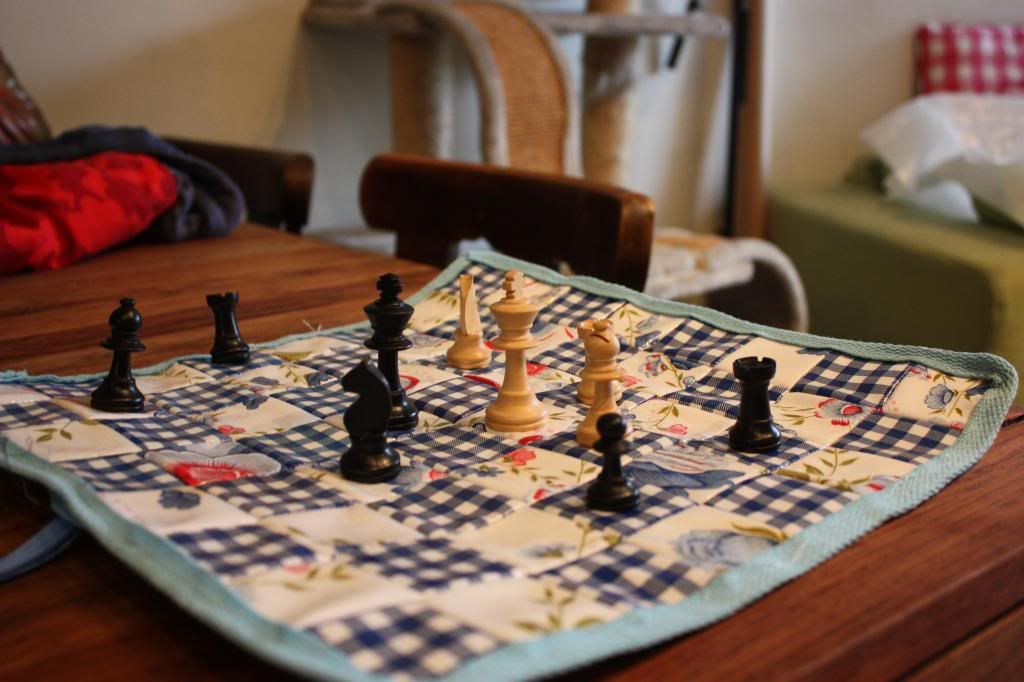 Nodig:



»

1 kapotte fietstas (of een ander object met genoeg toile cirée of andere stof om er een schaakbord mee te maken)


»

1 draaduittrekkerke (of hoe heet zo'n dingetje dat bij je naaimachine zit om naden los te peuteren? Edit door Elisse: een tornmesje!) of een klein schaartje


»

Een stukje karton


»

Een schaar


»

Een stylo


»

Naaigaren


»

Naaimachine


You will need:



»

1 busted up bike bag (or something else that gets you enoug fabric to make a board)


»

1 destitcher (or how do you call it) or little scissors


»

A piece of cardboard


»

Scissors


»

A pen


»

Sewing thread


»

Sewing machine


Hoe doet ze dat? // How did she do it?
1.
Haal je kapotte fietstas uit elkaar. Ik heb zo'n naaduittrekdingske gebruikt. Je kunt je tas ook gewoon uit elkaar scheuren of snijden, zoals mijn lief opmerkte toen ik begon te zagen over 'waar ik nu weer aan begonnen was', maar als je op je tanden bijt, heb je meer materiaal om mee te werken! Na enkele uren hard labeur had ik een hoop vies, vuil toile cirée, meters en meters tassenband, enkele sluitingen en goed verstopt gezeten klittenband.
Take your bag apart. I used the dethreaderthingie. You can just as easily rip or cut open your bag, like my boyfriend pointed out when I started nagging about 'what I had gotten myself into' , but you'll get more pieces to work with if you do it good. After some hours of hard work, I was left with a mountain of fabric, yards of webbing, some closures and some well hidden velcro.
2.
Was je viezigheid. Jaren stof en restjes boodschappen en gemorste cola hadden zich opgestapeld op mijn stof. Dat moest eraf. Laat ik je een gezonde tip geven: begin niet, zoals mij, te werken met bleekmiddel. Ik ben een eco meid en normaal gezien blijf ik ver weg van zo'n spul, maar gezien de schimmel die zich had opgehoopt tussen de stukken stof, haalde ik de pot toch boven. Spijt! Spijt! Ik haal die brol nooit meer in huis. Stank, vlekken op mijn prachtige tshirt (ik had het nochtans uitgedaan tijdens het bewerken), jeukende handen en ogen en mijnen toile cirée gevlekt… Bah. Leve zeep en elbow grease!
Wash your dirties. Years of dust, leftover groceries and spilt cola had gunked up in the bags. It had to go. Now let me give you a very good pointer: don't use bleach! I'm an eco chick, so I usually don't use this shit, but seeing all the fungus that infested this bag, I got some bleach and I'm sorry! I'm never using this stuff again. Stench, my shirt ruined, itchy hands and eyes and a spotty fabric. Not smart! Long live soap and elbow grease!
3.
Maak een malletje uit karton: een vierkant van 6 x 6 cm met daarin een vierkantje uitgeknipt van 4 x 4 cm. Gebruik dit malletje om 32 vierkantjes te maken van elk kleurtje met een getekend vierkantje in het midden als leidraad om straks te stikken.
Make a template out of some cardboard: a square of 6 x 6cm with a cut out square of 4 x 4 cm in the middle. Use this to make 32 squares of 6 x 6 cm with a drawn in square of 4 x 4 cm to use as a guideline while stitching later on.
4.
Snij de hoekjes van alle 64 vierkantjes.
Cut the corners off all squares.
5.
Stik de stukjes nu in een schaakbordpatroon aan elkaar. Volg de lijntjes die je hebt getekend.
Sew the pieces together in a chess board pattern, using the lines.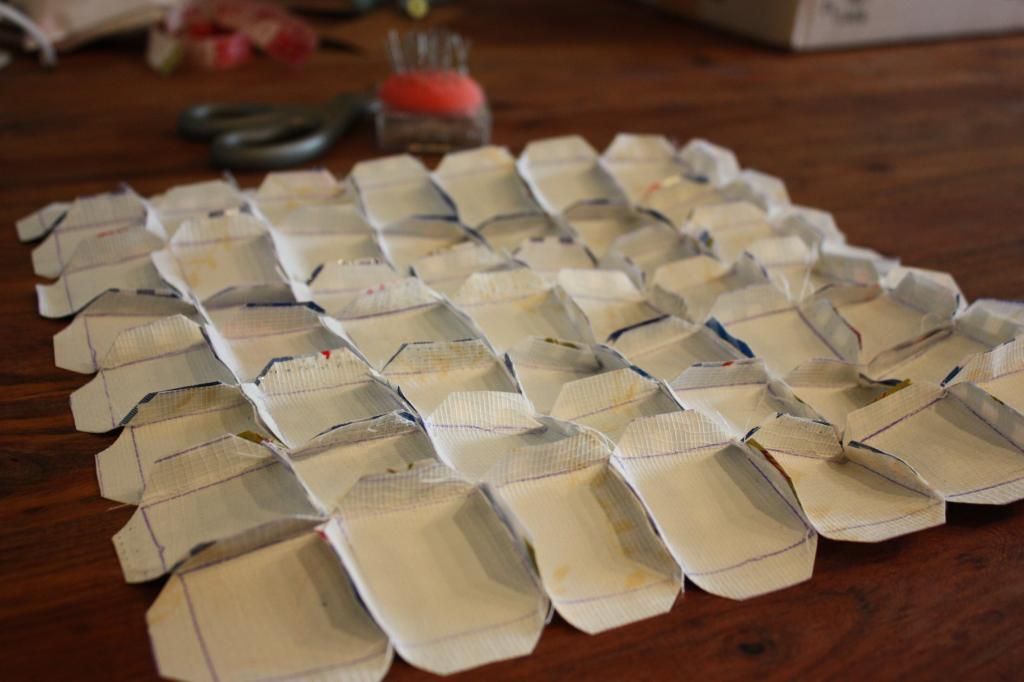 6.
Vouw de flapjes aan de achterkant open, lijm of tape ze tegen de achterkant van je stof (tip: Pattex Colle-tout collet blijkbaar niet tout. Werkt niet op dit materiaal), knip een stuk stof dat even groot is als je constructie (34 x34 cm), leg dat met de verkeerde kant op de verkeerde kant van je constructie en leg er een gewicht op. Een boek of zo. Of enkele boeken. Geen Dag Allemaals. Dat werkt niet. Laat de boel even drogen.
Fold the flaps on the back open, glue or tape them to the board, cut out a piece of fabric that's the size of the board you just made (34 x34 cm). Put that on the wrong side of the construction and weigh it down with a book or something. Don't use Playboy. Not heavy enough. Let it dry.
7.
Trim je buitenste rand met zo'n 3 mm. Naai nu de tassenband rond de randen. Naai aan een kant twee repen lint mee. Die kun je gebruiken om het bord na het oprollen vast te knopen.
Trim your outer edge with 3 mm. Now sew the webbing around the edges. Sew two pieces of ribbon with the webbing. You can use them to tie your board up later.
Et voilà,
schaak maar weg!
go play the chess!
Danke schön lieve Saar voor deze geweldige tutorial! Heel duidelijk uitgelegd en zo fijn geschreven, ik zou het zelf niet beter kunnen. :)
Thank you so much Saar for making this tutorial! I couldn't explain it any better :)